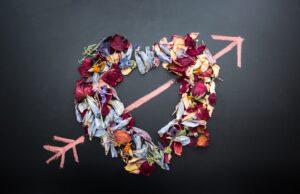 Valentine's Day can be a day of sadness or joy for many reasons, not just because we may not be in a relationship, but it just might not be the ideal relationship. This is certainly the situation with our relationship to the outside world due to the current health mandates! Depending on where you live you may be completely isolated, or you may just not be living normal. This is what happens during a pandemic. So, how do you make a day that is usually celebrated out and often at dinner something enjoyable? We came up with a few ideas that may brighten your day and lift your heart into a better space for health. Most of these are geared toward couples, but many of them can be done alone as well.
1. Netflix and Chill – seriously, watch a movie. Maybe even splurge and pay for a rental. Watch your favorite romantic movie. Grab your favorite treat (of course we recommend healthier options like dried fruit and popcorn), snuggle up with your sweetie or alone with your best fuzzy blanket and maybe even a glass of wine. You don't have to worry about driving home after!
2. Make Homemade Valentine's Cards – we have all this extra time at home. Why not make something more heartfelt. Share how you truly feel. It's time to get crafty! If you are alone, share your love with friends, or better yet, maybe someone who is elderly and isolated. If you don't know anyone, we could pass some cards along to patients who could use some extra love during this time.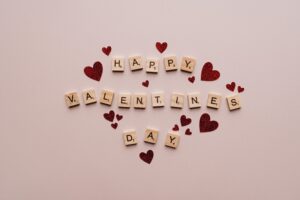 3. Play games – each of you pick your favorite one from childhood, you may even have to order it ahead of time. If you want to learn more about each other look for games that are geared toward getting to know your partner better. You may even want to find one that can "spice things up". And if you do not have a significant other organize a virtual game on Zoom, call a friend and ask them questions in a game style format that helps you know them better.
4. Lounge around – like we haven't done enough of that, but seriously, make it a relaxing night. Maybe you have a bubble bath – this is great if alone and even more fun if someone gets to join you. Maybe you do a home pedicure, dip your hands in wax. Wash each other's hair and get a great scalp treatment. Just unwind!
5. Hang out with other couples or friends online – it's the Zoom group date. Plan a menu – you could all cook together or order the same things. Chat, catch up, share some cute pics of what you've been doing at home. We know you all have done some kind of remodeling or art.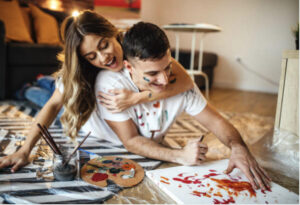 6. Art work – How about a sip and paint? You could even watch Bob Ross and try to duplicate his skills. You could make it fun and paint a shirt for each other. Or a little steamy, just paint each other – make sure you get paint that is safe! You could even go for some edible painting options. Wink, wink!
7. Go Star Gazing – What better time to slow down, drive out of town where you can get a better view without the city lights. Bring a nice blanket, lay under the stars or the clouds if you can't go at night. Make your own shapes, share what you imagine, what you see, and how it makes you feel. Temperatures may make this a little more difficult in some places so maybe pack some hot chocolate or make a fire and roast marshmallows to keep warm.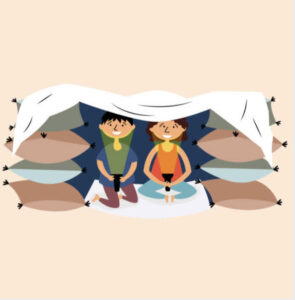 8. Build a Fort – this is fun whether it's just you or you have a significant other. The only downside is cleanup! Create a space that helps you remember the joy and safety of being a kid. Maybe hang some fairy lights. Grab a flashlight and some goodies and read a book or watch a movie even if you have to watch on your phone.
9. Take a long drive, discover somewhere new. Pack up some snacks, some non-alcoholic drinks. See if you can find someplace new. If you are able to you could even get out and take a walk. If you are not in a relationship call a friend and share your adventure with them. Tell them what you have seen and why they would want to go.
10. Go on a scavenger hunt. By now we have all done a great deal of outdoor walks because it was one of the few things we are allowed to do. But mix it up. If you're in a relationship, then each of you could create a hunt for the other. If you are alone create a challenge for yourself. Make a list of things you need to be able to find maybe it's something blue, something soft, learn the name of a new plant you come across. Maybe challenge yourself by going someplace you don't normally walk and see what you can learn about the new location. You'll be surprised how the path you've taken before may seem new when you are looking for different things along your walk.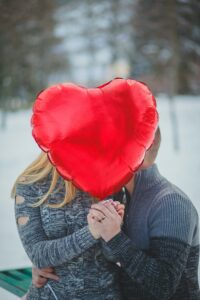 11. Relive your first date. This one's definitely geared toward couples. Sorry, they can't all be good for singles. Order food from wherever you ate for delivery or pick up. Watch the first movie you saw together. Recreate what it felt like to first look into each other's eyes. Remember how great it was when love was young and new!
12. Create Your Own Happy Hour! This can work whether you drink alcohol or not. Mix up your favorite drinks and make or buy hors d'oeuvres. Sit back, relax, chat. Maybe even get some friends to join you for a virtual happy hour via Zoom. Laugh a little. You could even put on some Karaoke.
13. Learn a dance together. Look online for places who are offering this virtually, you may have to pay for it. Or just find a dance you like – pull out the movie Dirty Dancing and see if you have the moves of Patrick Swayze. This could be pretty hot or absolutely hilarious. Either way you will have a good time!
14. Gaming – pull out the kid's video games, use the computer, or your phone. A little healthy competition can really bring on the heat! Prepare by having prizes for the winners. Maybe have consequences for the loser, like clothing starts to disappear. Celebrate the winner or the loser, whatever seems more fun.
15. Spa Day – Aaaah! It's time to relax and unwind. Put on some nice, relaxing spa music, light candles and fill the air with sensual smells, dim the lights, find the essential oils. You may want a full massage or just some foot reflexology. Remember the ideas above from number 4, you could just have a bath or a scalp massage. Maybe you wax or do facials. Just be sure you listen to what your partner needs to relax and help them have a good night's sleep.
If you can't make a spa day work at home and just want to give a gift certificate remember we have specials for Valentine's Day. You can get a couple's massage or just treat the one you love. We always say the best gift is the gift of health! And we need health now more than ever with a pandemic happening. We hope these ideas can assist with your mental health as well. Look forward to celebrating this holiday in a whole new way. May your heart be filled with love and health this Valentine's Day and throughout the coming year.
Dr. Abrams and the Aaaah Wellness Team
The 4A Plan 4 Health