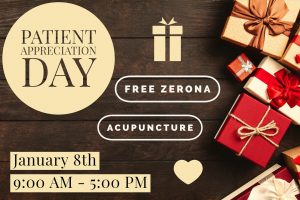 We appreciate YOU!
And to show you how much you mean to us we are giving away a free Zerona fat loss laser session. This gift is valued at $300. Here is some information about why you want to try this.
Zerona's Clinically Tested Fat Loss Treatment
The cold laser technology behind the Zerona procedure is both clinically tested and proven effective as a fat loss treatment. The Zerona technique has been clinically researched using multiple double-blind, placebo-controlled, randomized, multi-site studies. The results speak for themselves. Most clients lost an average of 3.72 inches from the circumference of their waist, thighs and hips, while the placebo group only lost about a half inch.
How Zerona Works
The technology employed by the Zerona Z6 laser was initially developed as an adjunct to liposuction procedures to help speed up the recovery process. However, it was found that these cold laser treatments could be used as a stand-alone procedure that promoted the liberation of stored intracellular fat.
When it's used cosmetically to target fat cells, the Zerona procedure creates an overall body slimming effect that can be used to reduce fat in your: Waist, Chest, Pecs, Back, Neck, Arms, Thighs, Hips, Ankles, and more!
The Zerona Z6 laser uses low-level laser stimulation to disrupt the membrane of fat cells. This disruption induces the formation of a transitory pore that causes the fatty material of the cell to seep out and move into the interstitial space regulated by the lymphatic system. The result is that fat cells within adipose tissue are shrunk instead of being killed, which can be harmful to the integrity of bodily tissue.
Why Clinically Tested Fat Loss Treatments Are Important
If you're looking to lose fat, there are tons of companies to choose from. They boast of instant results and guarantee to help you lose weight both quickly and safely. However, you'll find that many of these claims are not only false but downright dangerous. In fact, most other forms of fat loss treatments harm the fat cells, while Zerona is specifically designed to avoid doing so.
Clinical testing ensures that a fat loss procedure is safe and effective. Zerona-Z6 has undergone multiple clinical studies, so clients can have confidence that the treatment works with proven results. Plus, these trials and FDA Market-Clearances confirm that the Zerona procedure is safe.
Thousands of clients have now seen positive results using the clinically tested Zerona laser.
Our special rate is usually $149 per session. However, to help you with your goals for the new year we are offering a special package for New Years Resolutions. Our package will be a punch card for 10 sessions and extremely discounted. Come in for your FREE Fat Loss Laser session. See what this tool can do to help you reach you weight loss goals for the new year. Start off with an extra bang and achieve even greater success than you imagined!
Reminder that Massage Gift Certificates are Buy $100 get $20 Gift certificate free through 12/27/19.