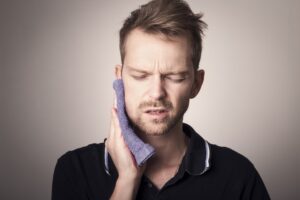 What is TMJ? How do I fix the pain?
TMJ (Temporomandibular Joint) pain can cause pain and discomfort due to the joint connecting your jaw to your skull being out of alignment. Many patients express pain when opening their mouth, eating or laying in specific positions.
Our clinic directly treats this condition by examining and treating the sutures, first couple vertebrae and the jaw, this helps the alignment for a more complete correction. We work with dentists and oral surgeons in Mesa, Arizona to provide additional treatments to use in adjunction with any kind of oral orthotic, night guard, Invisalign®, etc. that they may recommend for a treatment to your TMJ pain and symptoms.
Dr Abrams Explains TMJ / TMD

What are the symptoms of TMJ?
Jaw Pain

Headaches

Tinnitus 

Ear Pain

Difficulty Chewing

Facial Pain

Neck & Upper Back Pain / Tension
Treatment Options for TMJ:
Oral Adjustments

Cranial Adjustments

Acupuncture

Manual Therapy
Patient Testimonials:

Stop the Pain! Request an Appointment Online:
For more information or to request an appointment, call us today at (480) 396-4400.