About Dr Jarman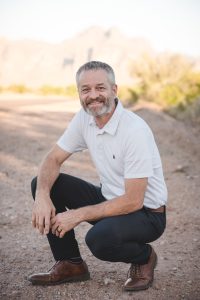 To be honest I had no clue what chiropractic was about.  As a kid, my family had never been before and I didn't know any chiropractors. I was studying computer information systems at Arizona State University with plans to open my own business in the computer industry that I had loved since 7th grade. With three months left until graduation, a chiropractor hired me to be his office manager. I saw suffering, pain, stress, and worry coming into the office and hope, relief, gratitude, and smiles leaving the office. Seeing that dramatic change in the lives of people really inspired me. Seven days after I graduated I drove to Iowa to start looking for housing to start a new career path.
I went to Palmer College of Chiropractic in Davenport, IA. I chose that location because it was the birthplace of chiropractic. During my chiropractic coursework, I was very interested in the adjustment and the different ways different doctors would adjust. I would ask any doctor to adjust me. I was researching what I liked and what I didn't like. My conclusion from my personal research was to focus more on low force adjusting and I have become Board Certified in the Atlas Orthogonal Technique. I have taken coursework in Activator Methods Technique, Sacro-Occipital Technique, and Thompson Drop Technique.
My mission is to create positive lifestyle changes in families. This will be accomplished by educating families of certain principles.
Our bodies are self-healing and self-regulating.
The nervous system controls and coordinates all functions of the body.
Nerve interference decreases our body's ability to function and adapt.
Chiropractic removes nerve interference which allows our bodies to heal, function and adapt better. If I can liken a chiropractic adjustment to computers, I press your "health reset button".  Your body is generally in a stuck pattern due to physical, chemical, or emotional stress. Using the health reset button technique I help sick people get well and help well people stay that way.
After 20 years of being a chiropractor I decided to learn a new technique.  I am excited to introduce AMIT (advanced muscle integration technique).  I love the instant gratification I have felt through the years of adjusting patients.  As I adjust them I feel their body calm, muscles balance, and their joints align.  I never thought I would find something that brought me equal satisfaction.  The AMIT work is about finding inhibited muscles.  This is found by isolating individual muscles, testing them for strength over a small amount of time and find out if the brain is actively shutting down the muscle or if the muscle is powerfully working properly.  It takes about 10 minutes to activate a muscle and then we retest it.  I love that I can feel the immediate increase in strength and that the patient feels it too.  This is a simplified explanation and there are huge benefits to having your muscles evaluated for function.
I am married to an exceptional woman, Tiffani.  We were married in 2020 during the height of the Covid pandemic and brought light to a dark time.  Together we have a blended family with 13 kids, 7 girls and 6 boys with 6 of them being adults.  I love to be outdoors in nature doing pretty much any activity. I enjoy playing board games, card games, foosball, and sports. Basically, I love to play.
My family and I rarely go see a medical doctor. I choose to be checked by a health reset button specialist aka chiropractor at least once or twice a week. I estimate I received over 70 nerve interference elimination procedures (aka adjustments) this past year. I choose better food choices. I choose to be positive in the way I think. I choose to be physically active. I do not take prescription drugs or over the counter medication.  It has been over 10 years since I have had an over the counter or prescription drugs.
Videos About AO/AMIT
Testimonials